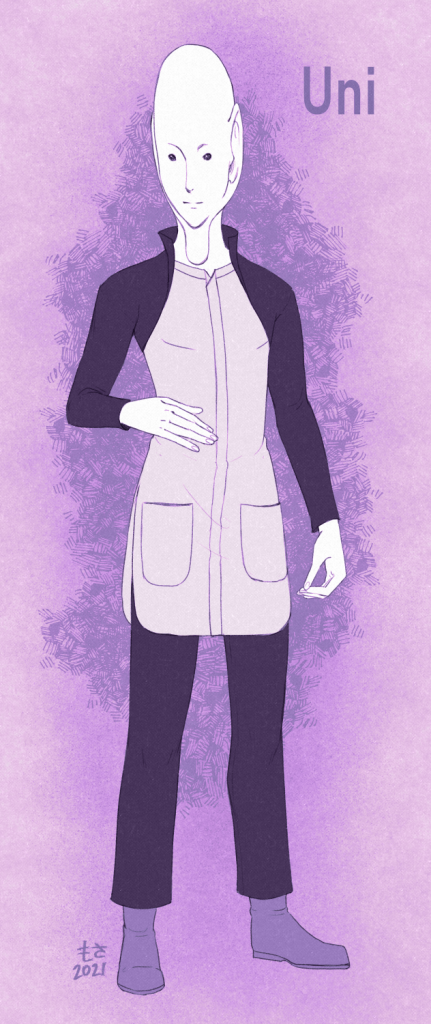 The Universal Consensus is an alien species. They have a hive mind and an individual consciousness that others can tap from inside their network. The members of the Universal Consensus are difficult to distinguish because they think alike and have similar appearances.
The road so far
Driven by a thirst for knowledge, our egg-headed scientists strive to advance technologically by any means necessary. One of the Holy Grails for them is finding a Nubilae with enough logical patterns for them to experiment on. Unfortunately, the only such being in existence is Tejeda Hajar. That we know of.
The Universal Consensus is one of the antagonists in The Space Spoon. If they get their hands on our Nubilae, that will be worse than death for him. Possibly because he can't die. Again, from what we know so far.
In short, Universal Consensus equals bad guys. But they look pretty harmless, right?
After a few appearances, it became tiresome to keep continuing with the whole "Universal Consensus member(s)" syntax, so the narrator decided to call them Unis on its own. Isn't it a mouthful?
Should we talk about Uni1, their leader? No need for that. Why? For once, he became all weird by saying, "I am the leader. I am the follower. I am everything. I am known as the Universal Consensus."
Yes, his speech in Chapter 9 is proof that he holds a plethora of titles, almost as many as Daenerys Targaryen. They also have something else in common. They are both dead. Oops, she is still alive in the books. So moving on.
Their L-403 is a powerful weapon for annihilating everything. Did you like how Tejeda shot it straight on in Chapter 15? The deranged main character probably imagined himself to be a cowboy or something. He might still have been there on Uthion under all that radioactive rubble if it weren't for E00.
What does the future hold?
Even though many Unis perished on Uthion, their plight is not over. This species is thriving, with headquarters and labs on many planets and systems. The real issue is whether their paths will intersect with Tejeda's again.
I may add that, for now, I am very pleased the Unis didn't manage to hypnotize Tejeda using their chin lobe. But, alas, no one knows what the future may hold. Not even I, the author. (Evil laughter subsiding into a sad croaking upon realizing I am a mere spectator.)
Oh, and a special thanks to Mosa for the Uni artwork. You can see more of their work at Mooncat Studio. I believe the image brings these fascinating aliens to life. Hmm… Is it acceptable to refer to them as individuals? Who can say?
Also, I thank all of you who read my books and my rants like this one. If I were to read this aloud, it would have been quite a verbal onslaught. Haha!
Do you want the Universal Consensus to make more appearances in the future? Let me know your thoughts in the comment section below.